Free Worldwide Shipping 🌎
Guaranteed Satisfaction > Or Your Money Back💸
LIMITED STOCK LEFT. HURRY!
Personalize your Pacifier Clip with up to 9 English Letters
Environmentally Friendly and Baby Safe ♻
Handmade and Carefully Decorated 
FDA Approved 100% Food Grade Silicone
Lead, BPA, and PVC Free 
8 Wonderful Colors To Choose From
The Perfect Gift for any New Parents
Look at our GIF below to see Pictures taken by Actual Customers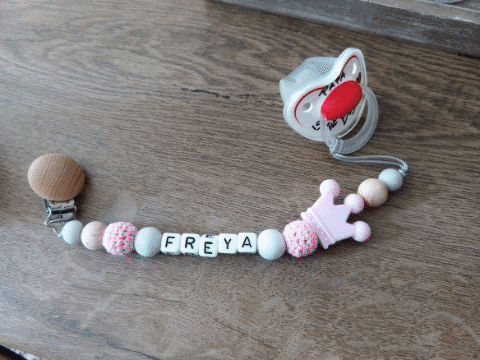 Never Lose A Pacifier Again!👶
Tired of continuously buying new pacifiers and wasting money because your baby accidentally dropped their pacifier on your day out with your baby? We've all been there and its not the baby's fault and you shouldn't have to worry about it. Our Brand New Baby Pacifiers Clips will make sure you'll never lose a pacifier again. You simply just tie it to your baby's pacifier and clip the other end to their shirt. It makes it super easy and simple to keep track of your pacifiers and ensures that they'll never be left behind. Our Personalized Baby Clips allow you to have your baby's name imprinted on your clip as each pacifier clip is individually handmade and checked by our team. 
Easy to Use — Simply tie your Pacifier to our clip and use the other end of our pacifier clip to connect it to your baby's shirt
Customizable — Write your baby's name above and make sure it is 9 letters or less. This is to ensure that our Pacifier Clips are not too long and cannot accidentally strangle your baby. Your baby's safety is our Number 1 concern and that is why we have a limit. Use a nickname if your baby's name is too long and make sure you are using the English Alphabet. 
Safe — All of our Baby Pacifier Clips are made with 100% Food Grade Silicone and are Lead, BPA, and PVC Free. Making sure our Clips are not toxic to you or your child since it is in direct contact with your baby. 
Certification — We are FDA Approved and run by the Motto: "Natural, Pure, and Safe" 
Size — 10-12 in long / 26-31 cm long 
————
We use encrypted SSL certificates for 100% security.
Hesitant? Ask our many customers from all around the world.
Click "Add To Cart" Above To Order Now!